Honda Ridgeline Maintenance (2010 to Present)
Shows Maintenance Main Symbol (alpha) as well as Maintenance Sub-Symbols (numeric).
Maintenance Symbol Displayed
Service is recommended at 8,000 to 10,000 kms
Replace Engine oil
Service is recommended at 8,000 to 10,000 kms
Replace engine oil and filter.
Service front and rear brakes.
Rotate tires, inspect for wear and adjust pressure.
Inspect parking brake adjustments.
Inspect tie rod ends, steering gear box and boots.
Inspect suspension components.
Inspect drive-shaft boots.
Inspect brake hoses and lines (including ABS).
Check all fluid levels, condition of fluids and check for leaks.
Inspect exhaust system.
Inspect fuel lines and connections.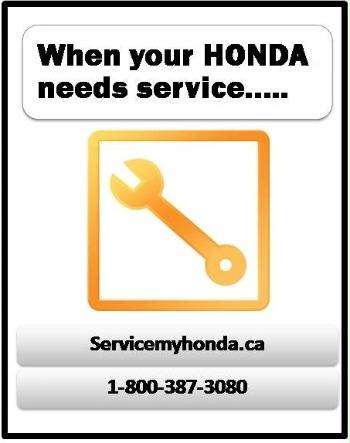 Service recommended every 8,000 to 19,000 kms
Tire rotation, inspect for wear and adjust pressure
Service recommended every 40,000 to 49,000 kms
Replace air cleaner element, replace dust and pollen filter. Inspect and adjust drive belt
Service recommended every 95,000 to 109,000 kms
Replace transmission fluid
Service recommended every 160,000 to 169,000 kms
Replace spark plugs. Inspect valve clearance
Service recommended every 175,000 to 184,000 kms
Replace engine coolant
Service recommended first 15,000 to 24,000 and 50,000 kms
Replace VTM-4 rear differential ***4WD model only
Specific Maintenance: Honda Ridgeline
In addition to the maintenance messages shown in the odometer/trip meter display, having these specific services performed at the distance recommended is vital to keeping your Ridgeline in optimum operating condition.
Recommended km/yr Specific Additional Required Maintenance
12,000 km replace VTM-4 rear differential fluid and every 24,000 km thereafter if vehicle is regularly driven in mountainous areas at very low speeds, or if vehicle is frequently used to tow a trailer. *Use only Genuine Honda VTM-4 rear differential fluid.
Every 24,000 km Replace air cleaner element if vehicle is regularly driven in dusty conditions
Every 24,000 km Replace dust and pollen filter if vehicle is regularly driven in urban areas with high concentrations of emissions from industry and diesel-powered vehicles
48,000 km replace automatic transmission fluid and every 48,000 km thereafter if vehicle is regularly driven in mountainous areas at very low speeds, or if vehicle is frequently used to tow a trailer. *Use only Genuine Honda ATF-Z1100
100,000 km replace timing belt if vehicle is regularly driven in very low temperatures (under -29°C; -20°F), or towing a trailer.
Every 256,000 km Inspect idle speed
Every 3 years Replace brake fluid, use only Genuine Honda Heavy Duty Brake Fluid DOT 3
Check the following vehicle components as indicated in order to ensure your Ridgeline operates at peak

Engine oil and coolant level each fuel stop
Brake fluid level
Automatic transmission fluid level
Tire inflation and condition
All lights monthly