How to Keep Your Vehicle in Good Condition
Keeping your car in good condition throughout your ownership is key to ensuring safety of yourself and your passengers every time you get behind the wheel. Unfortunately, many drivers neglect to properly maintain their vehicle with proper routine care and maintenance. Follow our tips and tricks to extend the life of your vehicle, and book your routine maintenance and tune-ups at Cambridge Centre Honda's service department. Our Cambridge, Ontario service department has the experts and equipment to preserve the mechanical quality of your Honda, or any vehicle you drive. Book your appointment at our service department today.
Car Maintenance Checklist
Inspect & Maintain Tires
A key component of vehicle safety and fuel efficiency, so be sure to consistently monitor your tire pressure and tread wear on your vehicle. You can consult your vehicle's owners manual to find the optimal tire pressure the manufacturer recommends, and you can check the tread left on your tires with easy to distinguish tread-wear markers directly on your tires. Avoid tire blowouts by rotating your tires every few months, ensuring even wear across all four tires.
Change the Oil
Routinely checking your oil is important to maintaining the health of your engine, so be sure to check your oil each month and change it as directed in the car's owner's manual. We offer quick and simple oil change service here at our Cambridge Centre Honda service department, book your appointment today!
Check the Fluids
Your fluid levels need to be checked routinely to keep your car running smoothly. When you book your service checkup at Cambridge Centre Honda, our technicians will check your engine oil, coolant, power steering fluid, brake fluid, and transmission fluid, to ensure all our properly leveled to keep your vehicle running. If you notice any leaks under your vehicle when it's parked, bring it in to our Cambridge car repair shop to have any leaks taken care of.
Check Your Air Filter
A dirty air filter is very easy and inexpensive for you to replace, even on your own! A dirty engine air filter can allow dirt and other particulates into your car's engine and reduce its efficiency. Inspect your car's air filter once a year and replace it as needed.
Check Your Brakes
Check to ensure your brake pads aren't worn out and wear down your brake discs. While driving, listen for any brake noise and pay attention to shuddering or vibrating from the brake pedal. If any concerns arise, book an appointment at our service department as soon as possible.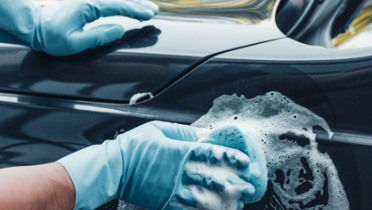 Wash Your Car
An often-overlooked aspect of vehicle care and maintenance, car washing is crucial to protecting both the exterior and undercarriage of your car. Your car is subjected to all sorts of elements, from road salt and ice melt in the winter to tree sap and bird droppings in the summer. Car washing eliminates these unsightly blemishes, and protects your car from rust and other corrosion.
Follow Your Maintenance Schedule
At Cambridge Centre Honda, our technicians can provide you with a comprehensive maintenance schedule of service and care designed to maximize the lifespan of your vehicle. All our trained Honda technicians are able to perform routine scheduled maintenance, so if you have a Honda vehicle, visit us today for a complete protective and preventative maintenance plan for your specific Honda model.
Trust the experts at Cambridge Centre Honda for all your service and routine maintenance needs for your Honda model. Our technicians are trained to help you get the most out of your current vehicle, and provide in-depth diagnostics and analysis on the mechanical health of your car, truck, or SUV. Book your appointment at our Cambridge service department today to help ensure your vehicle is in the best condition possible.