Is the 2023 Honda CR-V Right For You?
When it comes to shopping for your next vehicle, if you need more space or are concerned about handling and fuel efficiency, a compact SUV may be the best option for you. These vehicles, also known as crossovers, combine the features of a traditional car with those of a full-size SUV to provide the best of both worlds. Explore the benefits of a compact SUV like the CR-V, and see if it's the right choice for your next vehicle from Cambridge Centre Honda.
New CR-V Inventory | Explore CR-V
CR-V Offers More Size
Compact SUVs like the CR-V provide a variety of advantages to drivers, including more space, higher seating positions, higher ride heights, and ample cargo capacity. The CR-V typically has significantly more storage space than a standard car and nearly as much as a full-size SUV. Easily accommodate your needs with the 2023 CR-V thanks to its generous storage space, whether you're going on a long trip or short-distance daily commuting.
CR-V is More Affordable
When compared to its larger-body full-size counterparts, compact SUVs like the CR-V offer a more affordable upfront price point, as well as typically lower long-term ownership costs due to Honda reliability. If you find it difficult to maintain a full-size SUV due to today's high fuel prices, a compact SUV may be the ideal compromise.
CR-V is a Better & Safer Ride
Thanks to the unibody design, which combines the body and frame into one piece, the CR-V is like many similar compact SUVs that offer exceptional stability and ride quality. Driving more like a car and less like a clunky full-size SUV, the CR-V is still an enjoyable drive. Being larger than sedans and coupes, the CR-V is also much safer to drive in across the streets of Cambridge, protecting yourself and your occupants in a sturdy frame with advanced technology.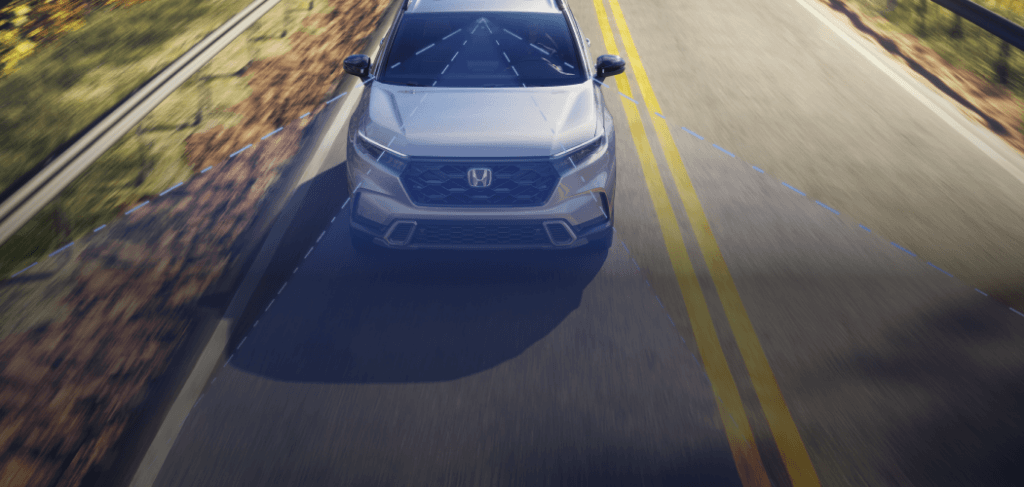 Find the 2023 Honda CR-V right here at Cambridge Centre Honda, the premier Honda dealership in the Cambridge, Kitchener, and Waterloo region of Ontario. Book your test drive with us today to experience the potential and quality of the CR-V and see why it's the compact SUV trusted by Canadians across the country for their daily commuting and weekend getaways.