Honda Ridgeline: Best Mid-Size Pickup Truck
JANUARY 2018 BY CAR AND DRIVER
Drew Dorian
PHOTOS BY MICHAEL SIMARI
ILLUSTRATIONS BY JEFF XU
Source: https://www.caranddriver.com/features/2018-10best-trucks-and-suvs-our-top-picks-in-every-segment-feature-honda-ridgeline-best-mid-size-pickup-truck-page-9
The Ground Rules
To determine our 2018 10Best Trucks and SUVs, we followed our usual 10Best procedure of inviting the previous year's winners plus vehicles that are all new or significantly updated within each segment. Competing vehicles must have a base price of less than $80,000 and be on sale by January 31, 2018. Each competing vehicle is driven and fully evaluated by our entire editorial staff during our weeklong test, and winners have been determined via editors' votes for which entrants best deliver across three key areas: value, driving enjoyment, and overall mission fulfillment.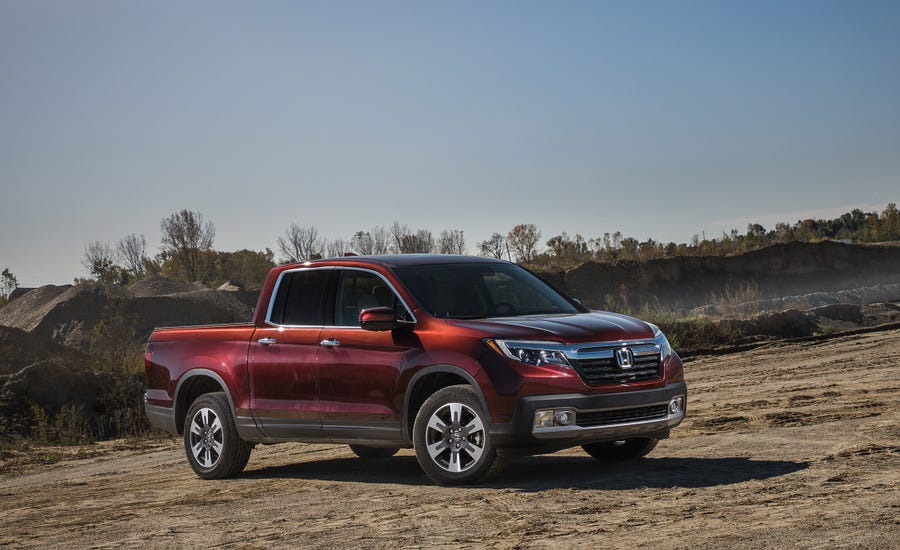 PHOTOS BY MICHAEL SIMARI
Yes, it's a truck—a great truck.
We heard plenty of disagreement about our naming the Honda Ridgeline to our 10Best Trucks and SUVs list last year, with most grousing centered around claims that it isn't a "real" truck. We hate to play the dictionary card here, but, like it or not, the Ridgeline is by definition a pickup truck. And we've driven and tested the entirety of the mid-size-truck segment, filled each one with our volume-measuring ping-pong balls and carry-on cases, evaluated the trucks' real-world fuel economy, towed with them, and even taken them tailgating. The Honda Ridgeline is simply the best of them all.
A mid-size pickup doesn't need to tow or haul as much as a full-size brute. We reason that the vast majority of buyers in this segment view their truck as more of a multitool, offering levels of convenience, wieldiness, and daily comfort absent from larger pickups while still having reasonable towing and hauling capabilities. Those who actually need full-size capability have a full set of options just one rung up—including the also excellent and also 10Best award–winning Ford F-150.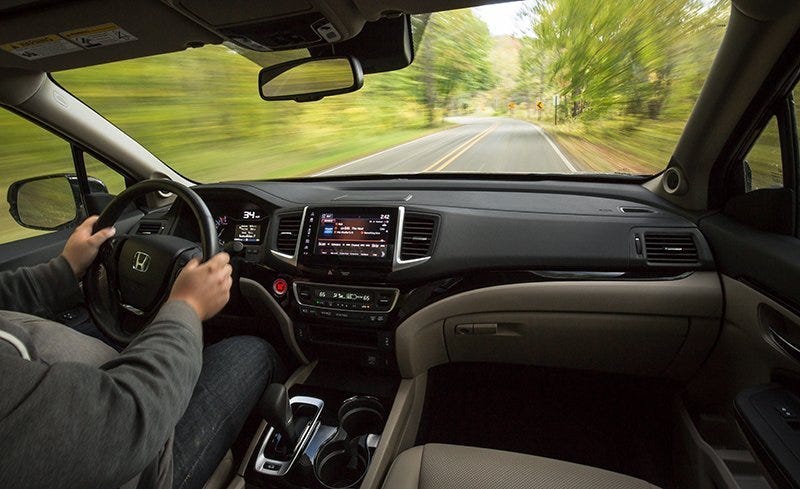 PHOTOS BY MICHAEL SIMARI
The Ridgeline's 5000-pound maximum towing capacity and 1580-pound payload rating are good enough for an expensive trip to a home-supply store or for lugging a decent-size boat to the lake, and the Honda has the best balance of practicality and everyday usability even if it doesn't out-tow the diesel-powered GMC Canyon or conquer off-road trails as well as the Toyota Tacoma TRD Pro or the Chevrolet Colorado ZR2. The Ridgeline's smooth and gutsy 3.5-liter V-6 makes quick work of highway passing, plus it sips fuel at a surprisingly low rate, returning an impressive 28 mpg on our 75-mph real-world highway fuel-economy test—matching that of the GMC's diesel engine but while burning cheaper and less energy-dense fuel.
Want to talk about cargo? The Ridgeline held 18 carry-on cases inside its rear cabin and 511 ping-pong balls throughout its various front-seat cubbies, both tops by large margins over any of its competition. And then there's that huge, lockable, and watertight storage compartment underneath the 5.3-foot bed, a well that also features a drain plug, making it a perfect, albeit uninsulated, cooler for beverages and food when tailgating. Count us as huge fans of the dual-hinged tailgate, too, which just might be the Ridgeline's most convenient feature.
These conveniences alone don't earn the Honda its 10Best award. Against the competition, it also has the most spacious rear seat, the quietest cabin, superior outward visibility, a far more comfortable ride, and more agile handling. The Ridgeline is a capable family vehicle that also happens to have an open bed out back; in our offices, we're all in agreement that it's the best mid-size truck on the market. —Drew Dorian
Specifications
VEHICLE TYPE:
front-engine, front- or all-wheel-drive, 5-passenger, 4-door pickup
BASE PRICE:
$30,705–$44,195
ENGINE:
SOHC 24-valve 3.5-liter V-6, 280 hp, 262 lb-ft
TRANSMISSION:
6-speed automatic
CURB WEIGHT (C/D EST):
4250–4500 lb
PERFORMANCE (C/D EST):
Zero to 60 mph: 6.6–6.8 sec
Standing ¼-mile: 15.2–15.3 sec
Top speed: 112 mph
EPA FUEL ECONOMY:
Combined/city/highway: 21–22/18–19/25–26 mpg