Honda Indy Toronto
Honda Indy Toronto raises nearly $90,000 for Make-A-Wish® Canada for second consecutive year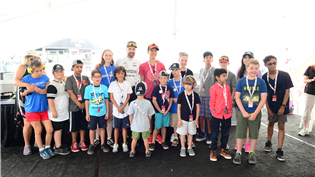 Nine years of fan and partner generosity exceeds $690,000 
TORONTO, ON (July 16, 2018) – Thanks to the incredible generosity of race fans, the Ontario Honda Dealers Association (OHDA) and the Honda Canada Foundation (HCF), nearly $90,000 was raised for Make-A-Wish® Canada during the Honda Indy Toronto race weekend. This marks the ninth consecutive year of Make-A-Wish® fundraising efforts at the race, which has generated a total of more than $690,000 for the organization dedicated to granting wishes for children with critical illnesses. All contributions from race fans over the weekend were matched dollar-for-dollar by the Honda Canada Foundation, Honda Canada's national charitable arm.
"This is a true reflection of how big people's hearts are and I know that everyone at Make-A-Wish shares in my excitement and sincere gratitude to Indy fans, the Honda Canada Foundation and Ontario Honda dealers," said Jennifer Klotz-Ritter, president & CEO, Make-A-Wish Canada. "Programs like this play an instrumental role in our ability to bring strength and happiness to the lives of children with critical illnesses."
Race fans of all ages were once again treated to the speed and spectacle of the race and the fun of the surrounding festival on Fan Friday. Instead of admission, attendees were encouraged to make a contribution to Make-A-Wish upon entry into the race. Donations were also accepted throughout race weekend for a variety of games and activities including face painting, racing simulators, James Hinchcliffe suit signing and Honda Junior Red Riders off-road riding program.
"This is exactly what the Honda Canada Foundation is all about and the common values we share with Canadians," said Dave Jamieson, Chair of the Honda Canada Foundation "We're thrilled about what we've accomplished together this past weekend with thousands of Indy race fans, our dealers and the many Honda Canada Foundation partners."
About the Honda Canada Foundation
Formed in 2005, the Honda Canada Foundation (HCF) aims to enable the realization of dreams through various annual philanthropic activities and funding to non-profit registered charities across Canada where Honda customers and associates live, work and play. The HCF focuses on four key pillars – family, environment, engineering and education – and each year more than $1.5 million is disbursed to groups in need. More than 5.5 million Canadians have benefited from Honda Canada- and Honda Canada Foundation-funded charitable programs. For more information, please visit www.hondacanadafoundation.ca
About Make-A-Wish Canada 
Make-A-Wish creates life-changing wishes for children with critical illnesses. We are on a quest to bring every eligible child's wish to life, because a wish is an integral part of a child's treatment journey. Research shows children who have wishes granted can build the physical and emotional strength they need to fight a critical illness. Headquartered in Phoenix, Arizona, Make-A-Wish is the world's leading children's wish-granting organization, serving children in every community in Canada, and in more than 50 countries worldwide. Together, generous donors, supporters, staff and more than 1,100 volunteers across the country grant more than one wish per day, on average. Since 1983, Make-A-Wish Canada has granted close to 7,500 wishes across the country; more than 600 last year alone. For more information about Make-A-Wish Canada, visit makeawish.ca.