Cambridge Centre Honda's Award Winners!
Congratulations to Mark Stables and Rick Ayers, Award winners in Honda Canada's
"Go for the Green Challenge"! Way to go!
Honda Accord Hybrid Wins 2014 Canadian Green Car Award
TORONTO, April 25, 2014 - The Honda Accord Hybrid today won the 2014 Canadian Green Car Award.
A panel of top Canadian automotive journalists selected the Accord Hybrid from among five other category winners as the vehicle that best combines environmental benefits and mass-market appeal.
David Miller, President and CEO of WWF-Canada, presented the second annual Award trophy to Dave Gardner, Vice-President of Sales and Marketing with Honda Canada Inc., this morning at the Green Living Show, in Toronto's Direct Energy Centre.
"Thank you to all the voting judges of the Canadian Green Car Award. It is an honour to have our Accord Hybrid recognized by so many of Canada's most respected journalists," said Dave Gardner. "Joining the award-winning Accord family and sharing the fun-to-drive performance, sophisticated styling and premium comfort features of the Accord sedan, the Accord Hybrid offers a no-compromise vehicle for the extreme fuel saver."
"One important way we can build an environmentally sustainable society is by making transportation choices that have a lower impact on the planet, and that includes greener cars," David Miller said. "The Accord Hybrid helps achieve that goal with its impressive efficiency, which is key to lowering greenhouse gases and improving local air quality.
"I am pleased to be part of the Canadian Green Car award as it is a meaningful way to show people what is really possible."
The Accord had won the Hybrid category, in a tie with Volkswagen's Jetta Turbo Hybrid, in an earlier selection round, after extensive testing and assessments by the 19 judges.
The category winners include:
Battery-Electric/Zero Emission
Nissan LEAF
Plug-in Hybrid
Ford C-MAX Energi
Full Hybrid
(Tie) Honda Accord Hybrid
Volkswagen Jetta Turbo Hybrid
Efficient Gasoline or Diesel
Mazda3 2.0-litre
Internal Combustion - Efficient Three-Row Family Vehicle
Mazda5
The Accord Hybrid and other category winners will be on display for the duration of the three-day Green Living Show, open until 7 p.m. today and Saturday and to 6 p.m. on Sunday.
The Canadian Green Car Award recognizes vehicles, widely available in Canada, that offer both impressive environmental attributes with strong mass-market appeal, since any product can have a significant impact only if it sells in large numbers.
As a result, the assessments combined "objective" criteria, such as fuel economy, emissions and price, with the judges' evaluations of performance, driving experience, value, features and "green" qualities. Those environmental benefits included not only fuel efficiency and emissions but also the use of sustainable or recyclable materials and measures taken by manufacturers to green their operations.
"Congratulations to Honda, the five other category winners, and to all the manufacturers whose vehicles were nominated for the Canadian Green Car Award," said Laurie Simmonds, CEO of Green Living Enterprises. "The Green Living Show provides consumers with an opportunity to view all the category winners and to test drive some of the most innovative automotive technology on the market today."
The competition began with judges submitting five nominees for each category. They could choose any vehicle as long as it met basic "green" criteria based on technology type and fuel economy. The top picks from those lists became the 16 entries - four in the Battery-Electric category; three in each of the others. This open process, in which eligibility doesn't depend on whether a manufacturer is willing to pay a substantial entry fee, is in line with other global green car awards and makes the program a more meaningful gauge for consumers.
Other nominees includes the Tesla Model S, Ford Focus EV, Kia Soul EV, Cadillac ELR, Porsche Panamera E-Hybrid, Infiniti Q50 Hybrid, Chevrolet Cruze Diesel, Volkswagen Jetta TDI, Nissan Pathfinder Hybrid and Kia Rondo.
Ford's Fusion Hybrid won last year's inaugural Canadian Green Car Award.
Automotive journalists Eric Novak, Michael Bettencourt and Peter Gorrie developed the Award program and are its steering committee.
Statement by Honda Canada Regarding Right Driveshaft Recall: 2013-2014 Honda Fit
Markham, ON - June 9, 2014 - Honda will voluntarily recall 360 units of 2013 and 2014 model-year Fit vehicles equipped with the manual transmisson in Canada to inspect and, if necessary, replace the right front driveshaft, free of charge. During the production of the affected driveshaft assemblies, it is possible that the heat treatment process was not properly applied, resulting in the driveshafts not meeting design specification. An out-of-specification driveshaft may break while the vehicle is in motion, most likely when accelerating from a stop, resulting in loss of propulsion of the vehicle. A broken driveshaft may also allow the vehicle to roll away if the parking brake is not engaged while the vehicle is parked even if left in gear, increasing the risk of an accident.
Honda is announcing this recall to encourage all owners of affected vehicles to take their vehicles to an authorized dealer as soon as they receive notification of this recall from Honda. Mailed notification to customers will begin in early June, 2014. In addition to contacting customers by mail, owners of these vehicles will be able to determine if their vehicles require repair by going to www.honda.ca/recalls or by calling 1-888-9HONDA9.
Honda Odyssey earns the IIHS " TOP SAFETY PICK " Award
By James Limbach
For the first time ever, a minivan has earned the top safety designation given by the Insurance Institute for Highway Safety(IIHS).
The 2014 Honda Odyssey scored well in all five IIHS crash evaluations, including the challenging small overlap front test. Vehicles are rated good, acceptable, marginal or poor based on performance in the moderate overlap front, small overlap front, side, rollover and rear crash evaluations.
Structural changes highlighted
The 2014 Odyssey is the first minivan to be evaluated in the small overlap front test. Honda asked the institute to test the vehicle to highlight structural changes the automaker made to improve occupant protection in a small overlap front crash. When tests are conducted at a manufacturer's request, the automaker reimburses IIHS for the cost of the vehicle.
Honda introduced the upgraded Odyssey as a 2014 model. While there are no major styling changes, the new model has advanced high-strength steel in the front door frames, floor pan and front wheel wells for a more rigid occupant compartment.
The side curtain airbags extend farther forward to offer comprehensive head protection in both a side crash and a small overlap front crash. Even with these modifications, the Odyssey's weight didn't change much because Honda engineers were able to reduce it elsewhere to compensate for the strengthened structure.
The test
The small overlap test was added to the IIHS lineup of vehicle safety evaluations last year. It replicates what happens when the front corner of a vehicle strikes another vehicle or an object like a tree or a utility pole. In the test, 25 percent of a vehicle's front end on the driver side strikes a 5-foot-tall rigid barrier at 40 mph. A 50th percentile male Hybrid III dummy is belted in the driver seat.
In the Odyssey test, the driver's space was maintained reasonably well. Injury measures on the dummy indicated a low risk of injury in a crash of this severity. Because the structure helped keep the steering column stable, the front airbag stayed in front of the driver dummy during the crash to provide good protection. The side curtain airbag deployed and had sufficient forward coverage to protect the head from contact with the side structure and outside objects.
High priority
"Safety is high on the list for parents when it comes to shopping for a family vehicle," says IIHS President Adrian Lund. "Consumers look for models with the highest safety ratings. Honda is ahead of many of its competitors in building state-of-the-art crash worthiness into its vehicles."
Honda and Acura brands have earned six TOP SAFETY PICK+ awards among 20 current models that the Institute has rated. They are the Honda Accord 2-door and 4-door, Civic 2-door and 4-door, Odyssey and Acura TL. Winners must earn good ratings for occupant protection in 4 of 5 evaluations and no less than acceptable in the fifth test.
Insurance Institute For Highway Safety's Crash Test for Honda Civic
See how the Civic Performs here! Important factor when deciding on safety for you and your family family. Click on image below to view.
Vehicle Care Commitment
"Its About Peace of Mind..."
With every visit to our service facilities, we are pleased to present to you a "KNOW YOUR VEHICLE REPORT". It's important to us that you leave our dealership with peace of mind, so we take the extra time necessary to analyze your vehicle's health to make sure it is operating at its optimum levels. This is a complete bumper-to-bumper inspection report that will help you better understand your vehicle's performance and health. Staying on top of your vehicle's wellness is vitally important to ensure your safety on the road.
How we give you "Peace of Mind..."
To help you understand what your vehicle needs to stay in top operating condition, we:
Perform a world class visual inspection on your vehicle every visit
Review your vehicle's current and previous maintenance schedules
Search our extensive database to uncover anything we believe you should know about your vehicle based on its odometer reading and time on the road
Make recommendations and create a treatment plan for your vehicle
Offer a complete easy-to-read and understand report that enables you to make an educated decision for your vehicle's service needs
Look for your "KNOW YOUR VEHICLE REPORT" at your next service visit!
Genuine HONDA Steel Wheels vs Aftermarket Steel Wheels
The Difference is Huge!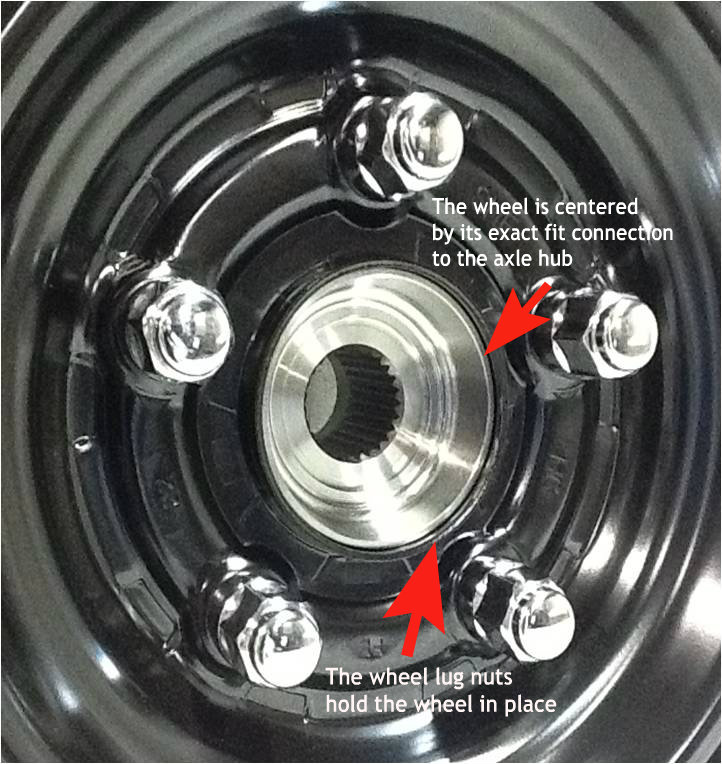 Designed specifically for your Honda.
Crash tested to Honda's strict specifications.
The wheel is centered by its exact fit connection to the axle hub.
The wheel lug nuts hold the wheel in place.
The Weight of the vehicle is resting on the axle hub and center bore of the wheel allowing for safe operation of the vehicle.
This is SAFE!
Aftermarket "lug" Centric Steel Wheels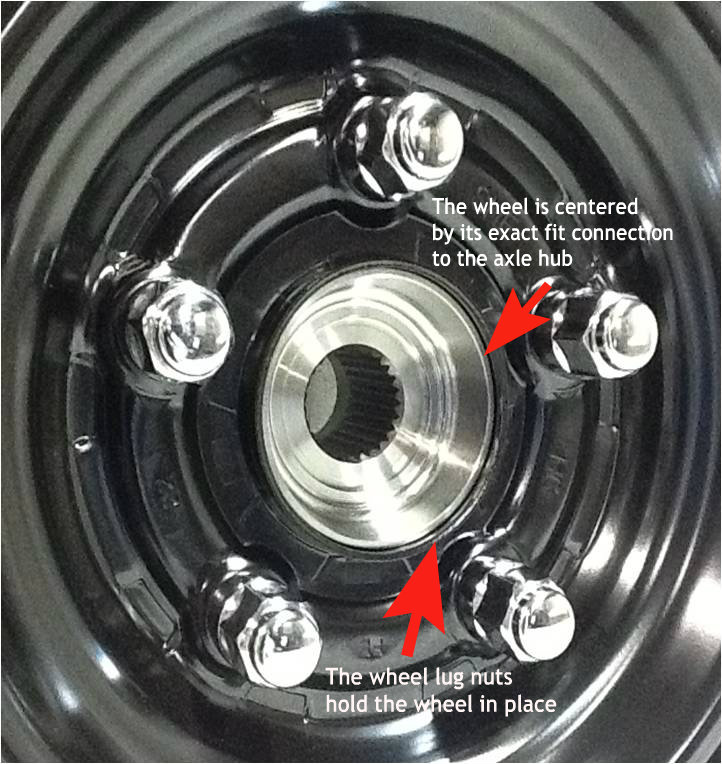 Designed to fit many different vehicle makes and models. (universal fit)
NOT crash tested to Honda's strict specifications.
The wheel is centered by the wheel studs and nuts making it vulnerable to vibrations and unbalanced operation.
There is a gap between the wheel centre bore and the wheel hub.
The weight of the vehicle is now resting on the wheel lugs adding extra forces that they were not designed for unsafe vehicle operation.
This is UNSAFE!
Honda Achieves Production Milestone in Canada
TORONTO, Nov. 27, 2012 /CNW/ - Honda is celebrating the hard work and dedication of generations of Associates today, as the company announced it has built its six-millionth vehicle in Canada. This impressive feat took place during the company's 26th year of Canadian vehicle production in Alliston, Ontario, home to Honda of Canada Mfg.
Honda became the first Japanese automaker to manufacture cars in Canada in 1986 when the company opened the doors of its Alliston, Ontario plant. Since then, Honda of Canada Mfg. has manufactured several models including Honda Accord, Pilot and Ridgeline, as well as Acura EL and CSX vehicles. The plant currently builds CR-V, Canada's top selling import SUV, as well as the Acura MDX and ZDX models. Alliston also produces the Honda Civic, Canada's best selling passenger car for 14 consecutive years.
"Nearly 1.7 million Honda Civics have been proudly parked in driveways all over this country," said Dave Gardner, Vice President, Sales & Marketing, Honda Canada Inc. "Our plant capacity was 50,000 vehicles when we started and we're now building 390,000 vehicles per year. This growth is the result of hard work and dedication of all the Associates who have worked with us over the years to produce the quality and reliability that Honda customers truly value."
Honda Canada gives back to the Alliston Community
To mark the six millionth Honda vehicle built in Canada, Honda Canada donated an all-new Honda Civic Sedan to Stevenson Memorial Hospital in Alliston. The car will be used as the centrepiece of a fundraising initiative to support the hospital's much-needed operating room renovation.
"Stevenson Memorial Hospital is a very important part of the Alliston community and our milestone was made possible through the hard work of so many who live and work in this community," said Gardner. "On behalf of Honda Canada, I'd like to congratulate the efforts of Honda Associates and hope this donation helps to kick off a new era of care in this community."
"This donation will play an important role in achieving our fundraising goals for Stevenson Memorial Hospital" said Glenn Rae, Chair, Stevenson Memorial Hospital Foundation "We're proud to have Honda in our community and honoured to be recipients of a vehicle that was built by the very people that our hospital serves."
Quick Facts:
Honda celebrated its 43rd anniversary in Canada in April 2012.
In November 2011, Honda of Canada Mfg. celebrated its 25th year of production in Canada.
Honda directly employs approximately 4,700 manufacturing and sales Associates coast-to-coast, and indirectly employs more than 19,000 Canadians through our national dealership networks.
Honda of Canada Mfg. (HCM) produces the Honda CR-V, Civic Coupe, Sedan and Si models, as well as the Acura MDX and ZDX.
HCM has a production capacity of approximately 390,000 vehicles annually.
In 2011, 51% of Honda Canada's vehicles sold were made at HCM in Alliston, Ontario.
With the addition of CR-V production at HCM in 2012, more than 70% of Honda vehicles sold in Canada will be produced at HCM.
The Honda Civic achieved Canada's top-selling passenger car status in 2011 for the 14th consecutive year reporting annual sales of 55,090 units.
Honda's investment exceeds $2.6 billion in Canadian operations and 6 million units produced.
HCM sources approximately $1.1 billion in goods yearly from Canadian suppliers.
Honda Canada Announces Two New Awards!
The Civic has been named the #1 selling passenger car for the 15th year in a row!
CR-V is the #1 Import SUV
Thanks to our faithful customers who make this possible!