2018 Honda Fit
JANUARY 2018 
BY ALEXANDER STOKLOSA PHOTOS BY CHRIS AMOS
Source: https://www.caranddriver.com/reviews/2018-honda-fit-in-depth-model-review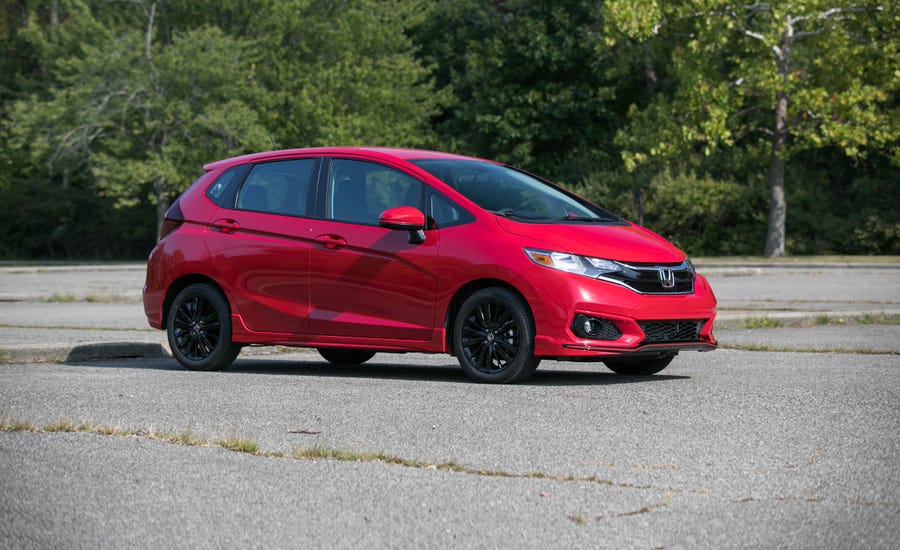 Overall Rating: 4/5 Stars
Honda's Fit is aptly named: You can fit much more stuff inside it than in any other subcompact thanks to its boxy shape and multi-way folding rear seats. It also is a strong value, with class-competitive refinement and build quality and a $17,080 base price. The 2018 model adds active safety features such as adaptive cruise control, lane-keeping assist, and automated emergency braking as optional or standard equipment on every trim level, further distancing the Fit from its humble competitors. What the Fit doesn't fit into its mix of capabilities is fun. Although you can get it with a manual gearbox, the Fit is at best pleasant to drive—which is a bit of a disappointment considering that the previous-generation model was more engaging while being equally practical. But if impressive interior space and versatility in a tiny package are what you're looking for, the Fit is still a car we highly recommend.
HIGHS
Peerless interior packaging, multi-way folding rear seats, excellent fuel economy.
LOWS
Quite slow, buzzy engine, handling isn't as fun as in Fits past.
VERDICT
Still the small car to buy if you must buy small.
What's New for 2018?
The Fit, which debuted in its current configuration back in 2015, received a mid-cycle refresh for 2018. Honda has made automated emergency braking, adaptive cruise control, lane-departure warning, and lane-keeping assist available on the little hatch. The previous-generation Fit's Sport trim returns to the lineup, too, albeit with solely cosmetic upgrades including black-painted wheels, a chrome exhaust tip, and a more aggressive rear bumper. Every Fit benefits from retuned suspension and steering components aimed at bringing back some of the driving fun for which their predecessors were known.
Trims and Options We'd Choose
Honda's Fit is basic transportation, plain and simple, so we see no reason to opt for anything beyond the lower trim levels. Besides, the new-for-2018 active safety features are optional on every model—although on every version save for the EX, they're paired with a continuously variable automatic transmission (CVT). We'd skip the fancy safety gear and nab the $18,390 Fit Sport. One rung up the Fit ladder from the base LX, it adds:
• 7.0-inch touchscreen with Apple CarPlay and Android Auto
• 16-inch black-painted aluminum wheels
• A natty body kit
• Leather-wrapped steering wheel and shift knob
Stick with the standard six-speed manual transmission to extract the best performance from the Fit's 130-hp four-cylinder engine. If you must have a manual transmission plus automated emergency braking, adaptive cruise control, lane-keeping assist, and forward-collision warning (and don't mind a sunroof), the $19,050 EX manual would be our next choice. Beyond that, the Fit begins to overlap with the considerably larger, more powerful, and comfier Civic hatchback lineup.