First phase of upgrades underway at Alliston Honda plants
NEWS
Jan 2nd, 2015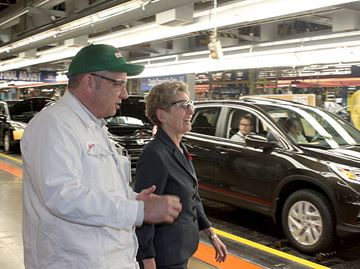 Honda investing $857 million in Alliston plants
Brad Pritchard
Ontario Premier Kathleen Wynne tours one of Honda's manufacturing plants in Alliston prior to announcing government support for Honda's $857-million investment in the local plants.
Alliston Herald
The investment includes a 10 per cent contribution from the province, or $85.7 million.
During the announcement, Jerry Chenkin, President and CEO of Honda Canada, called the government's help crucial in being able to stay competitive in the global market, where financial pressures continue to increase from countries where manufacturing costs are significantly lower.
Company spokesperson Mike Page said the first phase of the investment to upgrade all the vehicle assembly lines started this year.
He said the upgrades will pave the way for Alliston to become the first facility to build the new generation Civic, a first for the company outside of its headquarters in Japan.
"HCM will be the first plant to launch the new model," he wrote. "We are responsible for creating the manufacturing/process flow and we will share that with other plants globally so they can incorporate the processes into their production of the Civic."
Page said new consolidation facilities, where the company receives its auto parts, are also being built next to the plants on the north side of Industrial Parkway, which will eliminate the need to truck parts across the road.
Page said the company expects the first consolidation centre to be in operation at the start of next year, with construction of the second facility to be completed in 2016.
He said new companies are being sought to move into the Simcoe Parts Service consolidation buildings on the south side of the road.
"That could move new jobs into our community although we have no idea how many," he added.
As part of the project, the company is building a new entrance to Plant 2 just west of the current entrance.
Honda of Canada Manufacturing opened its doors in Alliston in 1986, where it currently produces the Honda Civic and CR-V between its two vehicle plants and engine facility.